Top Five Tips to Photograph Wild Costa Rica by Kevin Dooley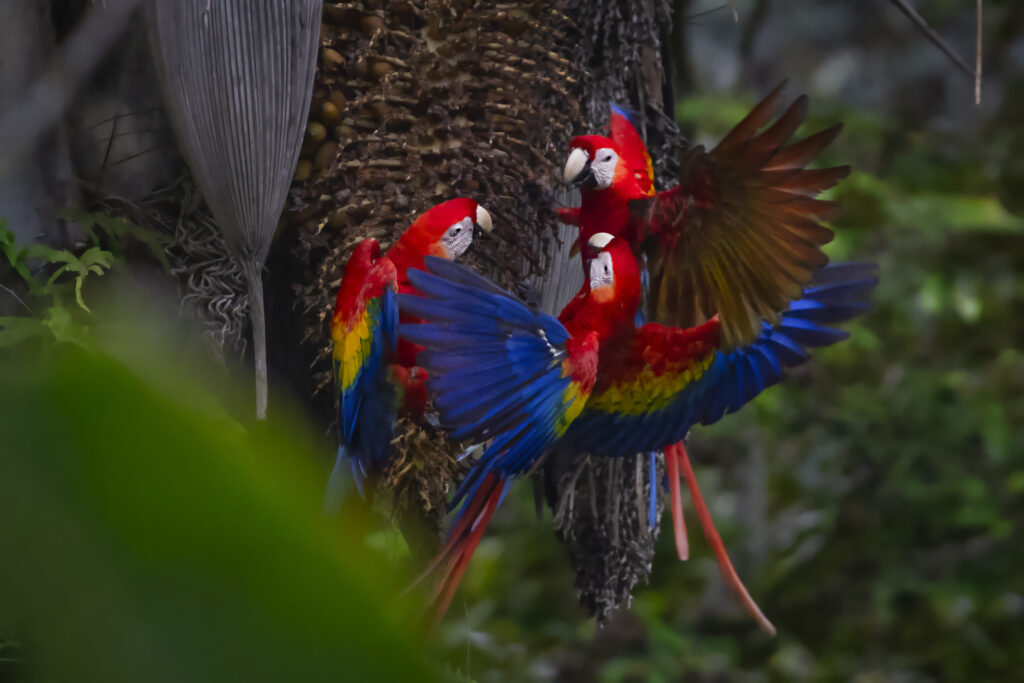 Costa Rica is a top destination for wildlife photography
There are many reasons why I enjoy Costa Rica for wildlife photography. It is a close and very fulfilling destination, I can reach Costa Rica in less time then it takes me to get to Alaska. I truly enjoy the tropical environment with beautiful beaches and wonderful seafood. The wildlife is prolific with many species of birds, mammals, reptiles, insects, and amphibians. Its a great location to photograph with both telephoto lenses and macro lenses all in the same day. The food is amazing and the lodging and the guides are top quality. Just like any wildlife photographic destination, there are some specific things that a photographer can be prepared  for that will enhance the over all quality of the adventure. Here are five pointers that I personally think can help a photographer to have great success in the amazing place.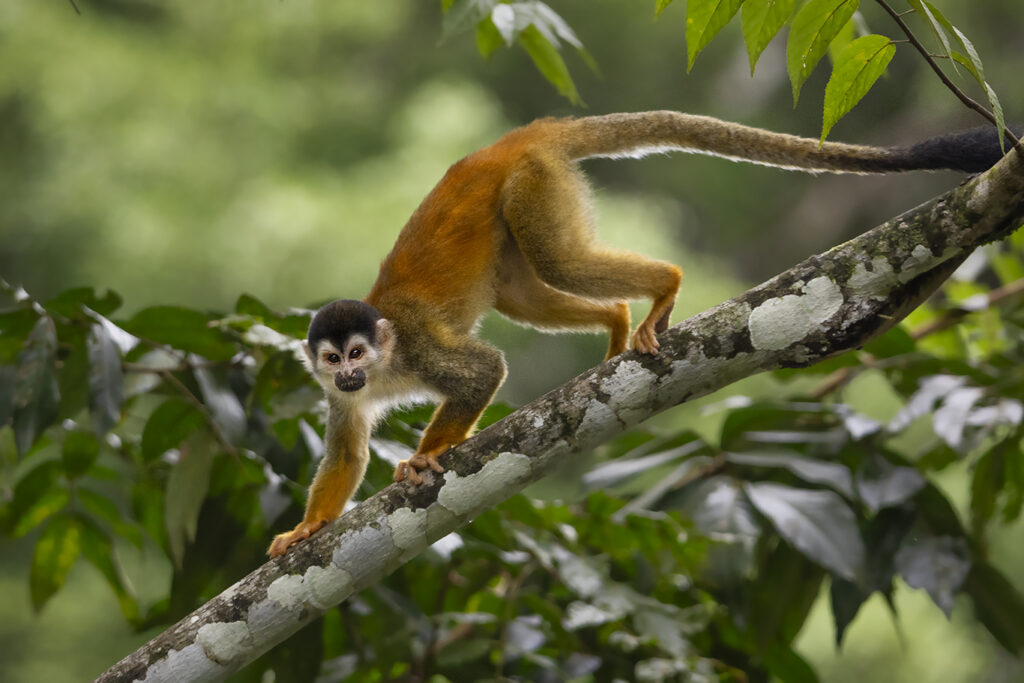 Wildlife Photography in Costa Rica does not normally require long hikes and steep climbing in high altitudes. Although some walking is required and it will definitely pay off to walk and exercise daily.  Starting several weeks before your journey to this stunning location, participating in  morning and evening walks will give you a head start on being in condition for hiking in the rainforests. Most photography trips will provide transportation and only a minimum amount of walking may be required. It is a good idea to ask your tour leader if steep mountain hikes will be part of your itinerary. The mountains in Costa Rica can very steep. A very important consideration about getting in shape for photographing wildlife in Costa Rica is exercising your upper body, back, neck, and arms. Most species that are photographed in Costa Rica are found high in the trees. Holding heavy cameras and lenses up and pointing them towards the wildlife for long periods of time can be a bit tiring. Working on your upper body core strength can help you to maintain these camera positions for a longer period of time.  Remember to always consult your doctor about any exercise routines. Our tours in Costa Rica do not require much walking, however we do often encounter wildlife in the trees and often have to photograph them with the cameras pointing up. It is no fun missing an image because you are fatigued while trying to  hold your camera in the correct position. It is also important to remember to breath properly when holding up your camera. Learning to breath continually and staying steady is a great skill to master.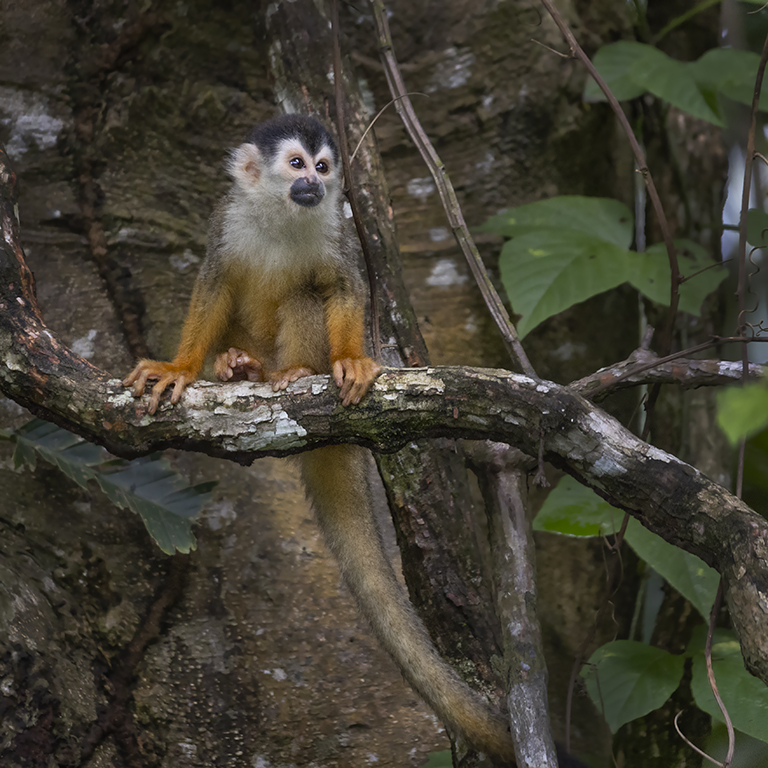 The areas where a photographer finds the majority of species to photograph is in the rainforest. Of course they call it the rainforest for a reason. September and October can be very wet. We do our Costa Rica photography tours and photographic workshops in late June. This time of year normally gets enough rain to add beautiful depth and saturation to the environment. The cloudy skies will also provide some relief to the bright spots of light that can appear through the tree canopies. However, we rarely have rain that lasts the entire day. Having good rain gear for your camera and lens will keep you from having to stay indoors and miss some photographic opportunities during the rainy times of the day. It is also a good  idea to have quality rain gear for your self, including a rain hat and water proof closed toe shoes. I personally use the Think Tank camera hydro cover. They are amazing. Click here for more. I also bring several lint free cloths that I store in Zip Lock Bags for drying lenses, cameras, and eyeglasses. Another tip would be to bring a small portable umbrella.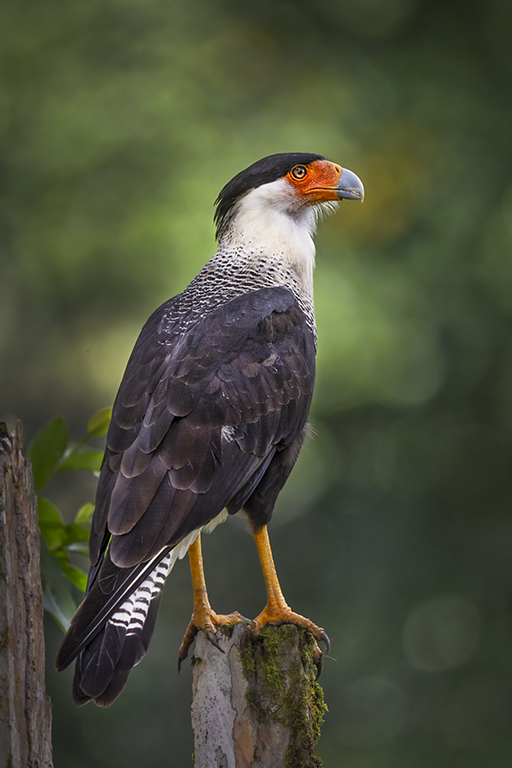 Understand how your camera works
I often experience the frustration of a photographer with a new camera having difficulties with all the different settings. Today's new cameras can be very complicated and learning how to use  them is vital to enjoying and being successful with your photographic outings and tours. It can be expensive to go on exotic photography adventures. Such investments deserve a wonderful time and the ability to get amazing photographs. Study the owners manual, download it and bring it along on your photographic trips. It is vital to set up your camera with your top features of importance for easy access when you are doing your photography. Once your camera is set up the way you like it, stick with it and let those buttons become second nature to you. For me personally I have my camera set up for easy and quick access to my three most important and often used features. ISO, Camera Tracking feature, and Continuous focus. I want to be able to access these features quickly and not waste time looking for them. We all have different priorities and shooting styles, try to match yours with the set up of your camera. Learn it, and practice it at home.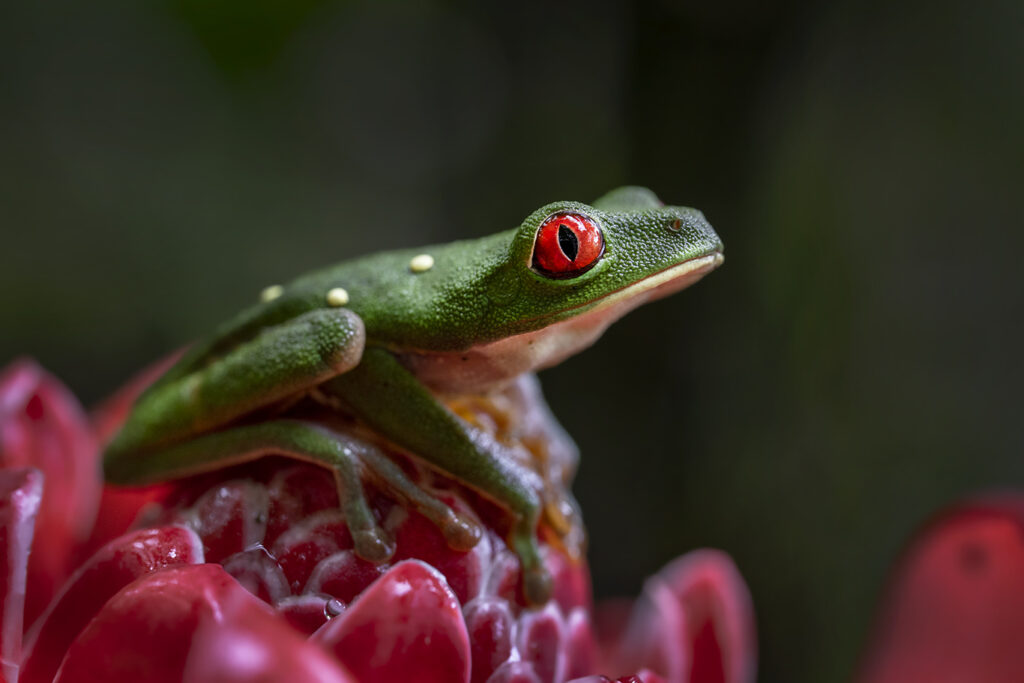 Use the correct camera mount at the correct time
Costa Rica can be very thick with ground cover as well as thick bushes and trees. Using a tripod will work in some cases, especially when doing river tours or photographing at eye level. However having three legs on a tripod can get caught up in the debris that often covers the forest floor. Another issue with a tripod is that often you are pointing your camera towards the tree tops and its vital to have a tripod that will extend to or slightly past eye level. It can be difficult to lean over and photograph upwards all at the same time. A monopod is a nice alternative to a tripod as it will help to relieve the fatigue that comes with shooting for long periods in upward positions. A gimbal style tripod head is very important as it will give you a  fluid motion when photographing flying birds. I recommend the ProMediaGear Kevin Dooley Safari Gimbal. https://promediagear.com/collections/gimbal-heads/products/gkjr-katana-pro-green-gimbal-head-kevin-dooley-safari-edition  Most likely you will encounter weight restrictions on your domestic flights. A top quality carbon fiber tripod is an investment that will come in handy in many photographic adventures. I use ProMediagear tripods and monopods. They are tuff, lightweight, and very reliable. https://promediagear.com/collections/carbon-fiber-tripods-42-series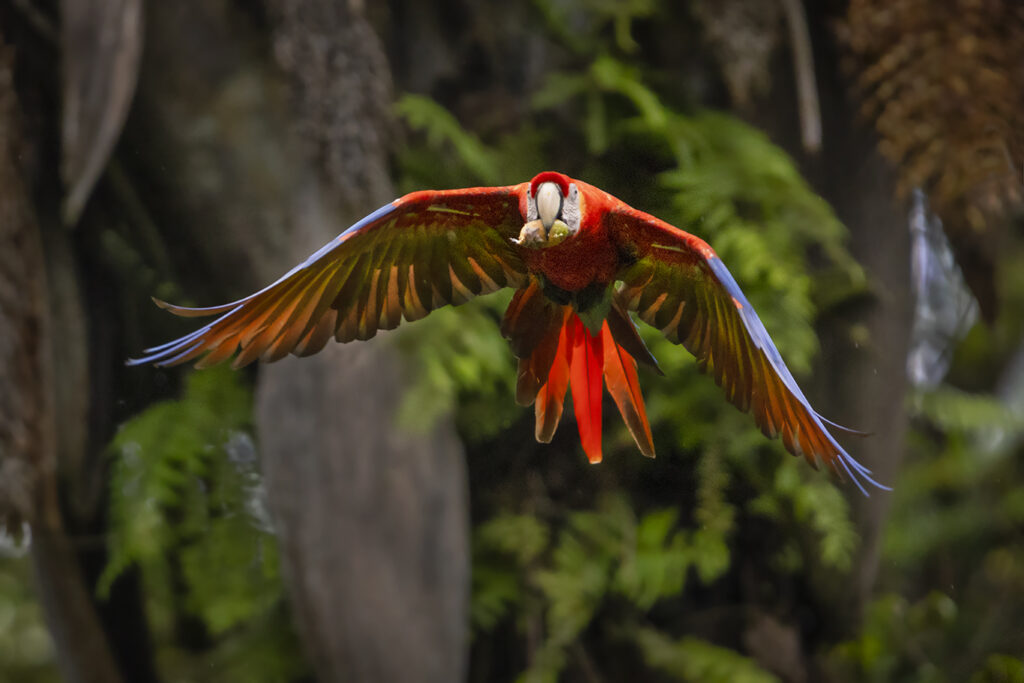 Camera and Lens fogging can be an issue
Lens fogging can be a huge hindrance and should be addressed in environments with extreme tempertaure changes and high humidity. I have found that it really comes down to giving your gear time to acclimate to the conditions your are photographing in. The humid and wet climate of Costa Rica combined with air conditioned lodging and transportation can be a sure way to experience lens fogging. It is so nice and refreshing to enjoy a good nights sleep with air conditioning. However when going from your air conditioned room to the hot and humid outside air, it can be a problem for your lens. Make sure you have plenty of time for your lens to get acclimated to the outside conditions. When I leave for breakfast I leave my camera and bag outside in an area that I can keep an eye on it.  I do not leave my camera and lens in the camera bag. My camera bag is very weather resistant and I want my lens to get acclimated to the same conditions I will be photographing in. I leave the zippers on my camera bag slightly open so they can get some circulation. Just be careful to make sure the zippers are secure when carrying the bag. When traveling in the transport to the areas where we photograph I try to keep my window partly open and the air circulating. I use a few different camera bags. One of my very favorites for this  type of adventure is the Think Tank Backlight. https://www.thinktankphoto.com/collections/backpacks/products/backlight-26l . When traveling I do keep my camera and lens handy and ready. You never know when you will see something you might want to photograph.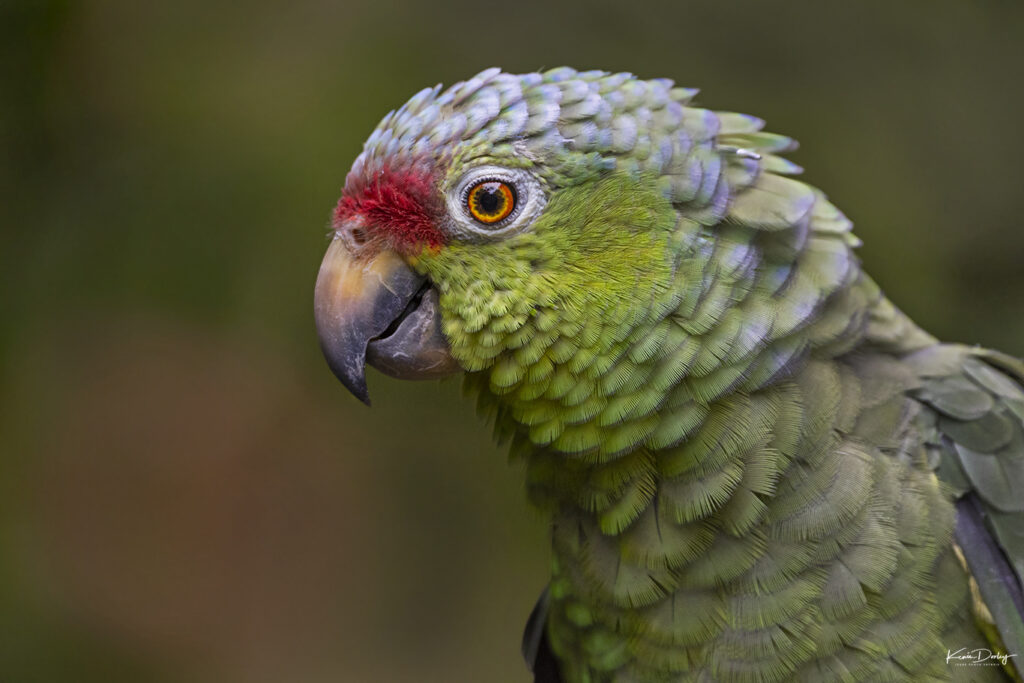 I take two lenses to Costa Rica. In most cases the domestic air travel will limit the over all weight you can travel with. I also prefer to keep things simple and spend my time photographing, Not trying to decide what lens to use. I am a huge fan of using top quality zoom lenses for travel photography. If I can get great images from one lens that will offer many different focal lengths I am all in. I much prefer to have the opportunity to compose and create my photograph in the camera. A good zoom lens will allow the photographer to create several different images at different focal lengths without having to move and possibly frighten the wildlife. My Sigma 60-600 is in my opinion the perfect wildlife photographers lens. It is everything I need in one package, from a wide environmental image to a close up portrait all with the same lens is a dream come true.  I can go on a wildlife expedition and get everything I need from just one lens. It is supper sharp, very reliable, water resistant, and functions very quickly. The other lens that I take to Costa Rica is the Sigma 70mm Macro, although most of my images are done on the 60-600, its so much fun to go in supper close and discover the details in the smaller subjects. A link to the Sigma 60-600. https://www.sigmaphoto.com/lenses/60-600mm-f45-63-dg-os-hsm-s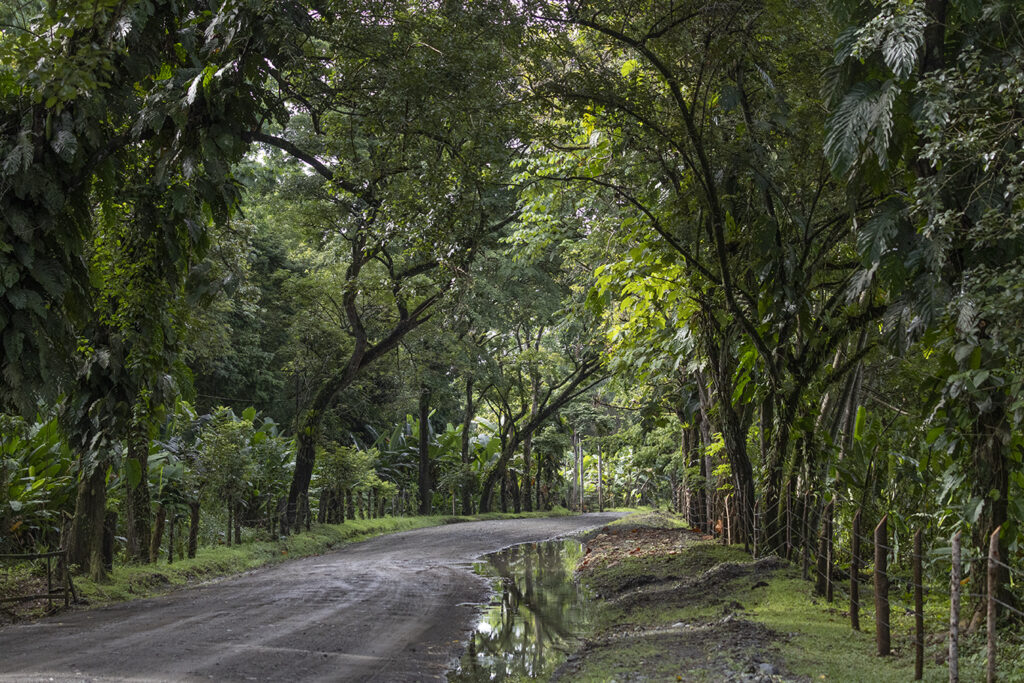 https://www.crocodilebay.com/wp-content/uploads/2022/09/Macaw_KevinDooley.jpg
911
1366
Janina Schan
https://www.crocodilebay.com/wp-content/uploads/2019/07/CBR-logo-trans-white.png
Janina Schan
2022-09-29 23:54:55
2022-10-14 10:12:55
Top Five Tips to Photograph Wild Costa Rica by Kevin Dooley